EXPLORE YOUR IMAGINATIVE SOUL ONLINE
Opening Doors and Finding the Juice For Creative Expression
Take some of the sparkle that resides in your heart and join me as we Explore Your Imaginative Soul through art and creative expression. Here's an opportunity to free your creativity and imagination through writing, drawing, composing and creating. In four weeks, we will express our spirits and let loose with all the artistry and innovation that lies within us. Join me in this course as we use our intuition to free the imagination.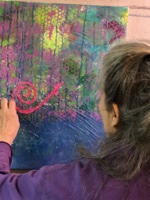 Do you have dreams of creative expression?
Do you want to overcome your inner critic and express your true creativity?
Do you want to experiment with new ways of approaching your art?
This workshop is for you when:
You have wanted to make art but aren't sure you know how
Your inner critic has kept you from expressing your true self
Your art is stuck and you want to put the fun back in it
And you want to find new ways to be creative
During this online workshop, we will integrate different artistic approaches and mediums. We will be inspired by the written word. We will work in ways that will open your creative playfulness with experimental, mixed media treats. I'll demonstrate a variety of techniques and share tips and insights as you create with inspiration from word and Imagery. You can experiment with new tools, supplies and techniques to use them
We will explore free writing as inspiration for intuitive painting, drawing with expressive freedom, shake the intrusion of the inner critic in our lives. Using acrylic primarily, adding any of your own art-making tools, we will conquer the blank page!
"With little, I mean NO painting experience…Karen helped me find my creative voice when I could not find it on my own. I love Karen's classes because she teaches students to love their work. She provides a fun, kind, embarrassment-free space to let your creative passion run wild! It's a good sign when you don't want a class to be over, and can't wait for the next one."
– Laura G.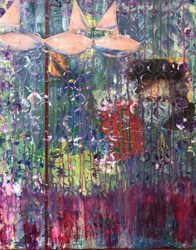 In this course, you will learn to
Let your intuition and imagination take the lead

Draw with your own personal expression

Paint with confidence and authenticity

Tamp down your inner critic

Collage to transform chaos to beauty

Get yourself unstuck and charged up with your vivid works of art!
"The class was fabulous! I really enjoyed it and found it to be a very opening and freeing experience. I've painted and illustrated before, but usually with an image in mind. The class was really was different for me. It hit an emotional level and let me put feelings on paper without trying to have to make something. It actually was very hard for me to do this at first. Then I let go of attempting to make something recognizable, and just let my feelings and the paint itself dictate the brush. It's all fairly new to me to work this way. I really enjoyed what you shared"
– Rose S.
HOW IT WORKS
This is a four week course. We will begin on March 26, 2018. Each week you will receive access to the lesson(s) for that week. While I have paced my release of materials weekly, this is largely a self-paced course and you are welcome to work at any pace you choose. You will have lifetime access to the course so you can come back to lessons as often as you like. There will be a private Facebook group for members of the class to share their work, lend support and ask questions. I will be there on a regular basis to provide input.
SIGN UP NOW!
Early Bird price until March 20, 2018 $69
From March 21, 2018 $89
SaveSave